Regular price
$3,143.43 USD
Regular price
Sale price
$3,143.43 USD
Unit price
per
Sale
Sold out
All orders within Continental US receive FREE SHIPPING ($1,600 Value)

Offering 3 payment options for you to choose from:
1) Make full payment today and save $100!
2) Place a deposit today and I will invoice you for the final balance, which will be due on 8/15/23. You'll save $70 with this option!
3) Make monthly payments, with the final balance due on 8/15/23. I will send you monthly invoices for you to initiate payment each month (cards will not be automatically charged).
Beef ships end of August
FREE SHIPPING FROM OUR RANCH TO YOUR DOOR!!! Our bulk beef bundles are part of our Harvest's timed with Mother Nature and when the cattle are in their peak condition. We are still raising these cattle for you and still have to send them to the butcher to be processed. With that being said, orders will be ready to start shipping out the end of August. We ship first come, first serve! So place your order early! We will reach out to you closer to shipping time to coordinate when to expect to your beef to arrive at your door.
You choose whether you'd like 100% Grass-fed or our Signature Light Grain Finish. All our cattle are pasture raised right here on our sustainable ranch in Helmville, MT. They enjoy big wide open spaces under the Big Sky of Montana while drinking fresh mountain stream water. They eat our native grasses in valley pastures and mountain meadows, along with our chemical free hay that we harvest right here at the ranch.  If you choose to do our Signature Light Grain Finish, we implement a light grain ration while they are still out on pasture. (You can learn more below). 
This is our BEST DEAL for a bundle! You get to feel the security and peace of mind of having a whole beef in your freezer to feed your family - all for our most cost effective price! If you love to meal plan, host get togethers, contribute to the community potluck, backyard BBQ's, or simply blow your family's mind with mouthwatering meals for months to come, this is the bundle for you!
This is also a great option if you're looking to split a whole beef with a few of your friends and family as this will ensure our best price for each of you! 

Typically, a whole beef takes about 12 cubic feet of freezer space.
What to expect in a whole beef:
- about 56 lbs of top notch steaks. Potential steak cuts include a variety of: NY Strips, Ribeyes, Tenderloins, T-Bones, Sirloins, Top Rounds, Cube Steak, Flank Steak, Skirt Steak
- about 80 lbs of the best ground burger you've ever had! Packed in convenient 1 lb. packages. This is our signature 85/15 ground beef blend.
- about 64 lbs of savory cuts perfect for the family or special gatherings! Potential savory cuts include a variety of: chuck roast, arm roast, sirloin tip roast, rump roast, stew meat in convenient 1 lb packages, kabob meat in convenient 1 lb packages, brisket, ribs
- FREE Extras - You'll get FREE soup bones with your order. These make all the difference in your soups and stews! 
Price Includes:

- Having a relationship with your rancher and knowing that your cow was lovingly raised
- All butchering and processing fees
- All items are professionally packaged with our custom labeling
- All meat is flash froze to ensure freshness, quality, and flavor
- Each cut is vacuum sealed for an indefinite fresh quality in the freezer
- 100% Satisfaction guarantee
- FREE SHIPPING within Continental US from our ranch to your door! This is a huge savings!! (additional charge for shipping to Alaska and Hawaii)
View full details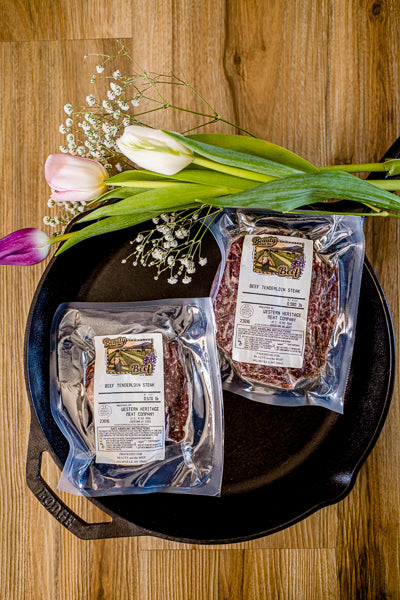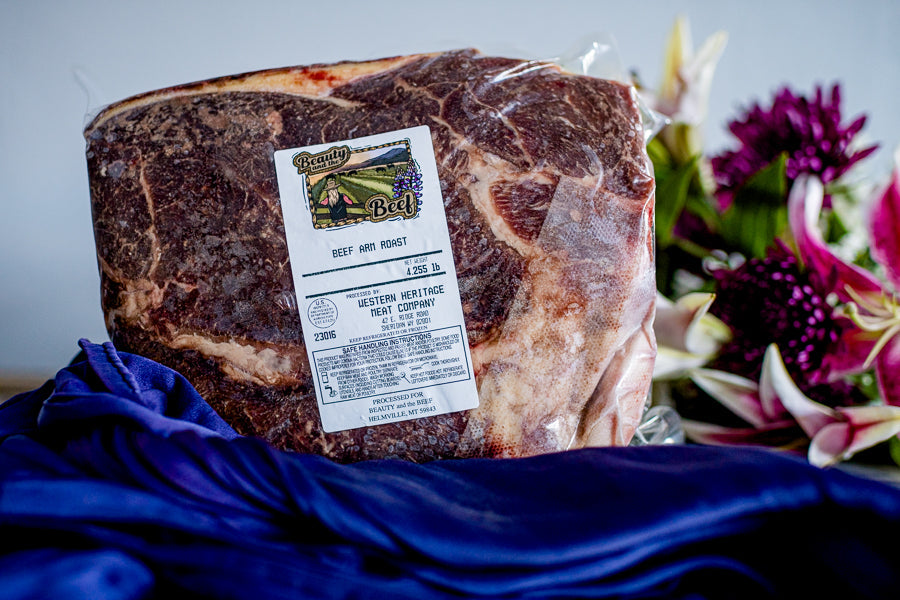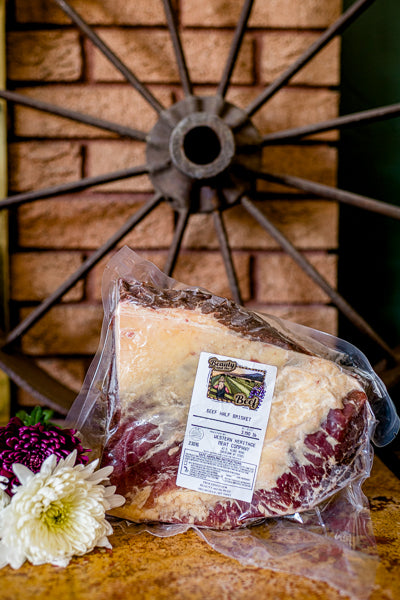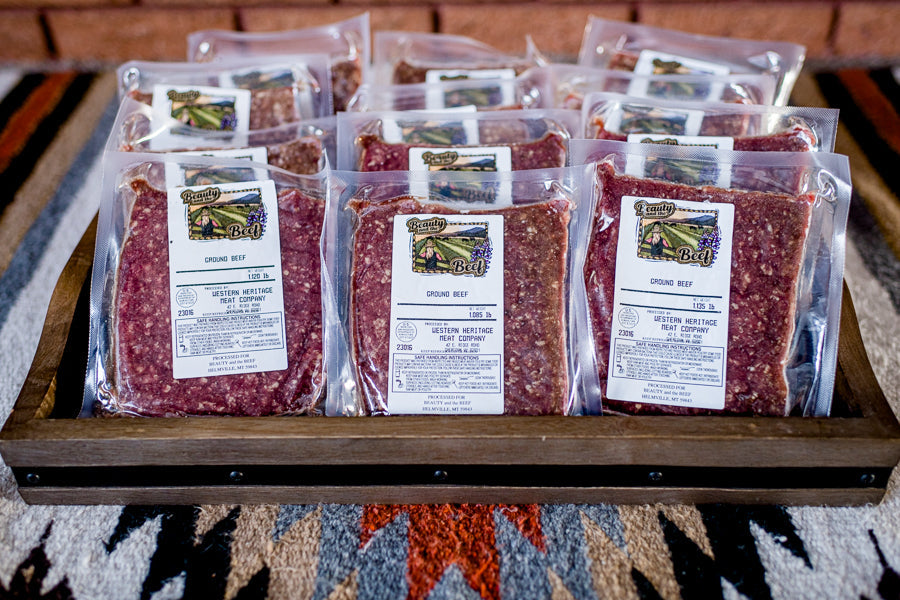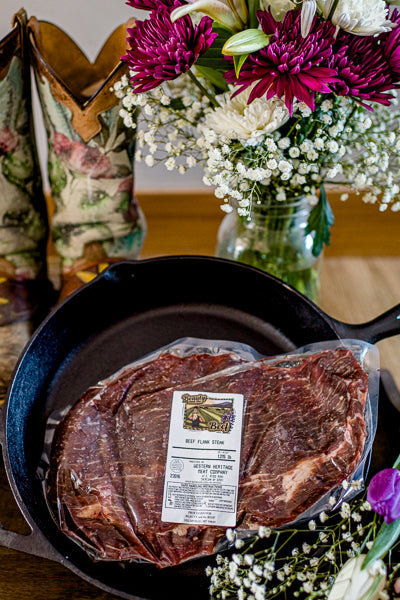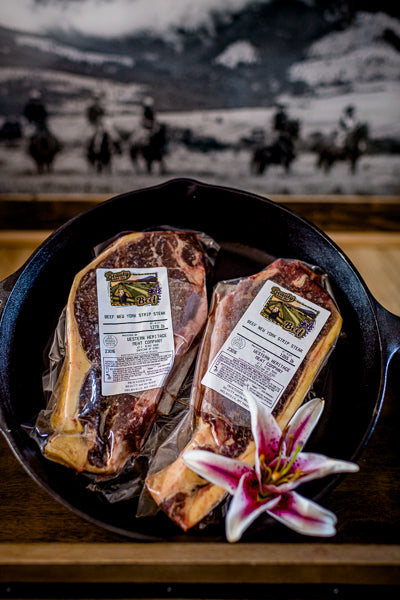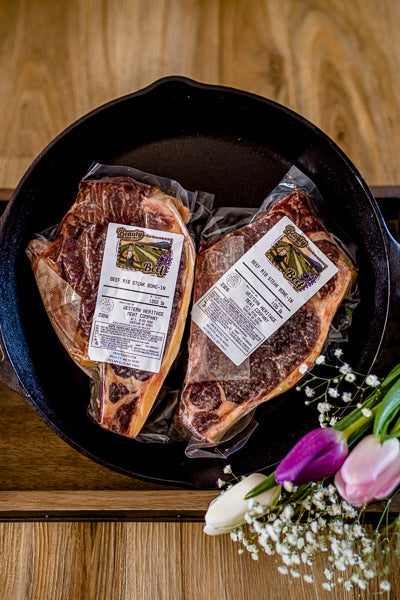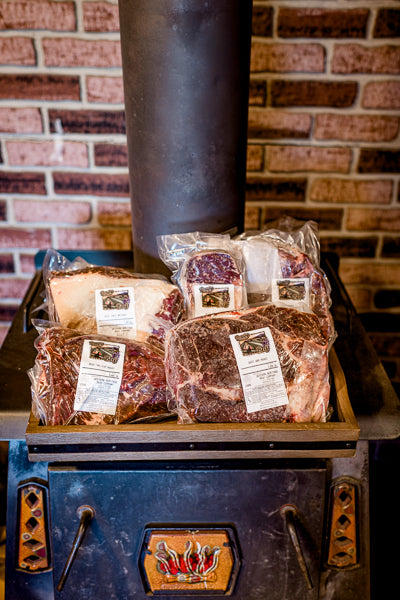 Fill your freezer with lovingly raised and humanely butchered beef

- Connect directly to your food source so you know you're feeding your family the highest quality meat.


- Build a relationship with your rancher so you know your beef was raised with the values that matter
most to you.

- Feel connected back to your roots and to nature as you honor the life of an animal by buying one of
our bulk beef bundles and utilizing each cut from the animal. Enjoy nose to tail eating and the benefits of all these nutrient dense cuts!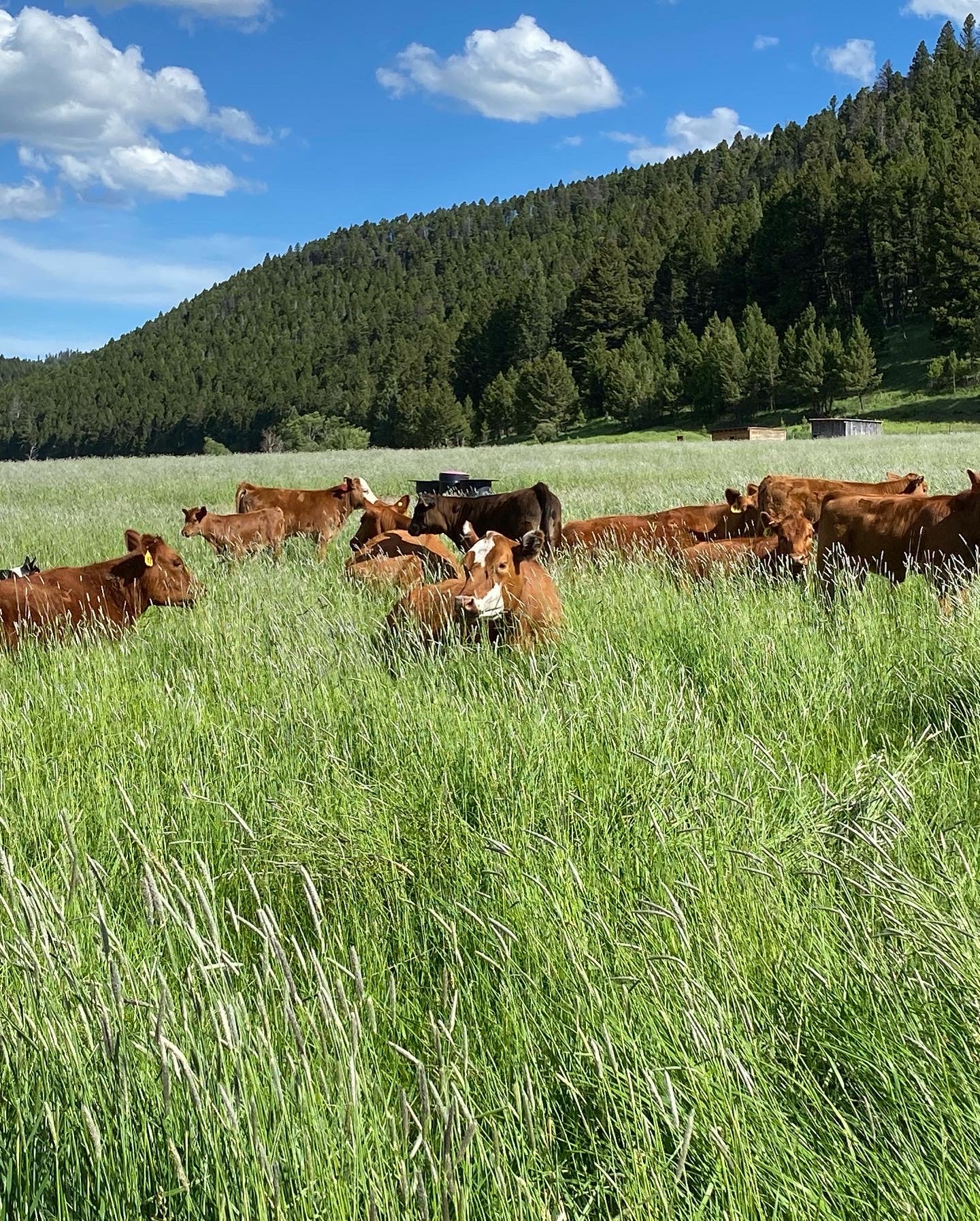 100% Grass-fed or Light Grain Finish - Your Choice
Our cattle are grass-fed and pasture raised throughout their entire life. You can choose between a 100% grass finish or a light grain finish option. The cattle remain on pasture during the graining, but receive a low poundage of daily grain in addition to the forage they are eating. My grandfather was a butcher who saw thousands of animals go across the line, and this was his preferred way to finish an animal. To me, I really like the increased flavor that the grain gives, along with the tenderness, juiciness, and flavor. The marbling of the animal really changes in those weeks of grain before harvest and, in my opinion, that translates into the quality of the meat that you eat. As the animal stays on primarily forage the whole time (small amounts of grain), it retains most of the same health benefits that you see in grass-finished versus grain-finished cattle. We are proud to be able to offer both the grass finished and the grain finished options so you can choose what the best fit for your family is!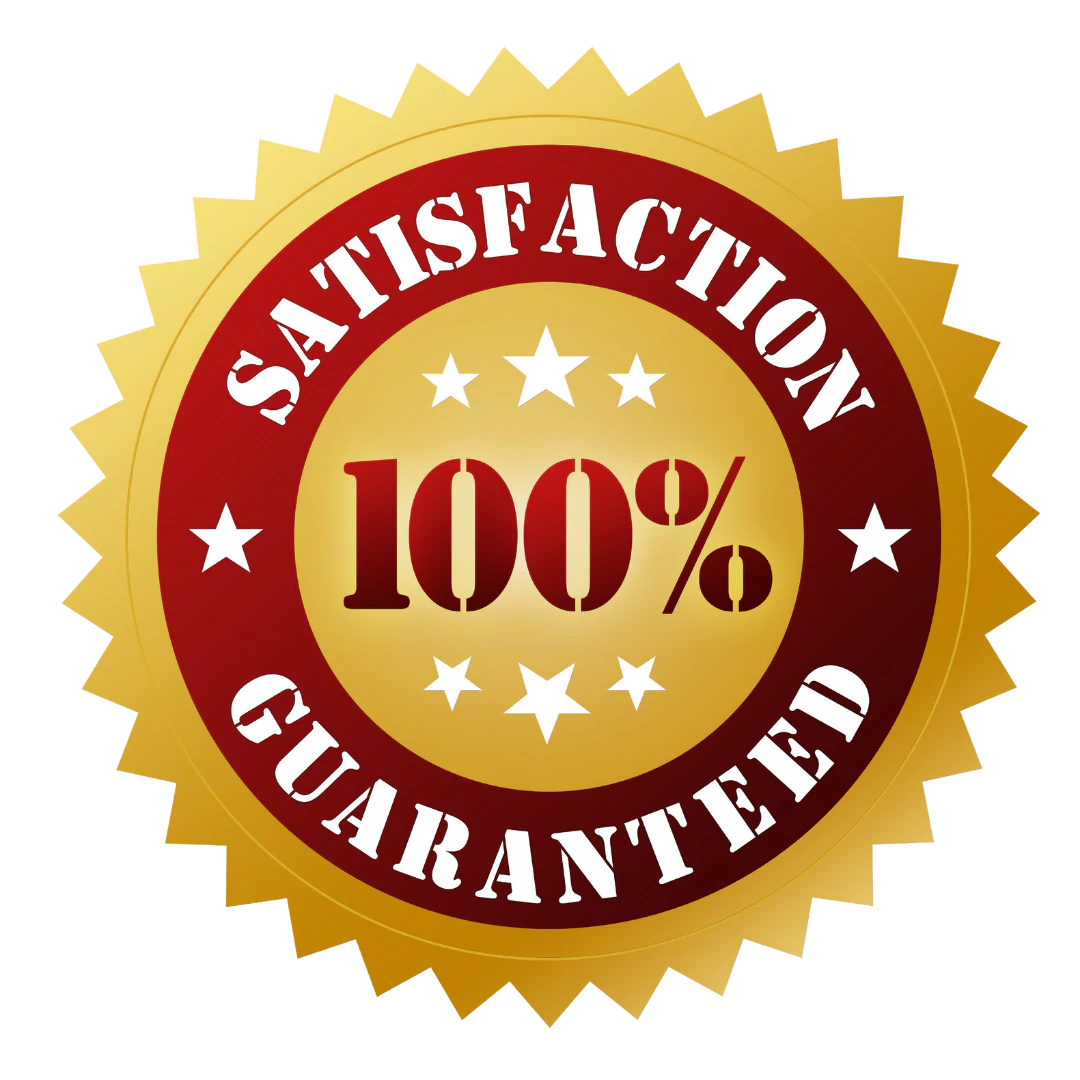 100% Money Back Guarantee!
If you aren't satisfied with your experience, we will return 100% of your money back. Yes, you read that right! Give us a call with any issues and we will make it right for you.
"They say it takes a village, ours includes a rancher in Montana now. When my wife said she found where we were ordering our 1/4 cow from, I wasn't sure what to expect. I'm glad to say that the beef tastes better than any other that we've purchased AND we received a relationship with Anna that we look forward to continuing. When my daughters saw the picture of the cattle and heard the thoughtful note she wrote on the back, it became clear that we stumbled upon much more than a meat salesman. We found someone who deeply cares about the cows and the families they nourish. Beauty and the Beef for life!"

Ron, CA

"The best beef I've ever had! I have been looking for a company like Beauty and the Beef for a long time. Anna is absolutely the sweetest and the love and care she puts into her cows is evident in the end product. The cows are cared for every step of the way and the beef tastes like nothing I've ever had before- and I'm super picky about my beef. And you can't beat knowing your rancher! Our girls even thank Anna for raising our cows at dinner. "

Trisha, CA

"Beauty and the Beef delivers on quality, taste, and excellence. I never realized how much I shorted myself by purchasing beef from the grocery store, sacrificing quality for quantity. Once my family had a taste of Beauty and the Beef we immediately noticed the difference in texture, taste, and the health benefits in the way our bodies processed it. Beauty and the Beef takes the cake on the finest beef around. We are hooked and incredibly amazed!!" Linna, WA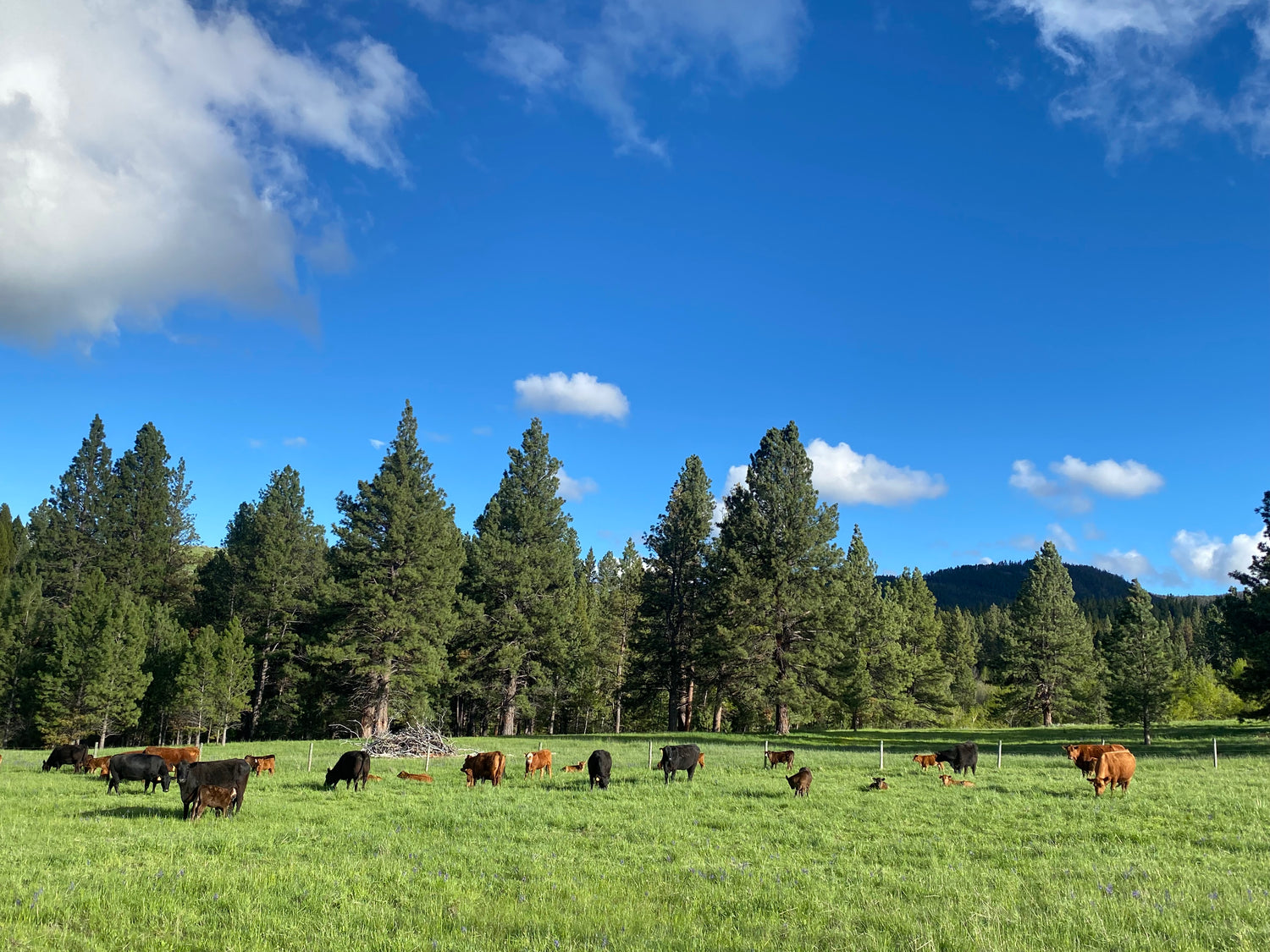 How it works
Step 1 - Make a payment on your bulk beef now and stay informed on the raising of your beef all the way up to delivery day!
Step 2 - Final amount due is collected prior to your meat shipping from our ranch to your door.
Step 3 - Reap the benefits of connecting directly to your food source and enjoy the gift of nourishment from our lovingly raised cattle.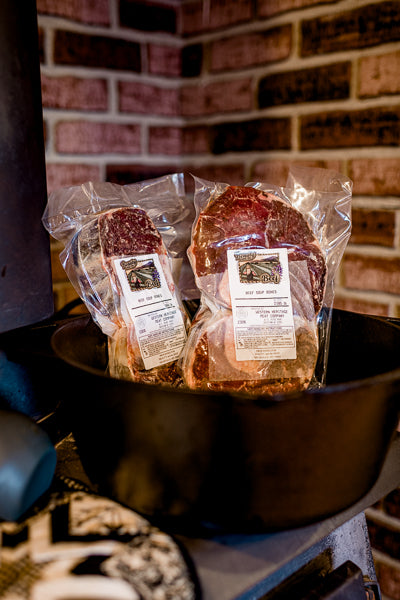 Bonus - Free Soup Bones!!
With each order of bulk beef you will get FREE soup bones!! When making bone broths, soups, and stews, these soup bones will make all the difference in the flavor. What a wonderful way to try something that you perhaps haven't cooked with before - you'll taste the difference with that first homemade soup on a cold winter day!
FAQs
What are the health benefits of your meat?

At Beauty and the Beef, we know that the quality and the nutrition of our food starts long before it hits our plate. Healthy animals make healthy food. Meat from pasture-raised animals is significantly higher in omega 3 fatty acids, Vitamin E, beta-carotene, and folic acid. They also have less saturated fat and cholesterol. You will not only taste the difference of our beef, but also FEEL the difference!
Is your beef pasture raised?

Yes! Our cattle live their entire life in our big, open pastures under the Big Sky of Montana.
Are your cattle raised in a feedlot?

Definitely not. We value the quality of life for our cattle and believe in keeping them in our pastures their whole life.
What do Beauty and Beef's cattle eat?

After the babies are weaned off their mommas, our cattle graze on both the Montana Mountain ground and the beautiful rolling valley ground. They graze on grasses and other nutritious forage that they naturally choose. This diet helps our cattle thrive without medications.

In the winter time we get enough snow covering that we have to feed hay, which we grow and harvest right here on our ranch. Our cattle get free choice salt and mineral year round.

We offer a 100% grass fed, grass finished option. This is where the cattle only ever eat natural forage in the form of fresh grass and the chemical-free hay raised here on our ranch.

We also offer a light grain (Montana sourced grain, as we also believe in supporting local!) finish on our cattle during the last weeks of their life. They are still in the pastures and grazing, just being supplemented
with a bit of grain. This really makes a difference in the flavor, juiciness, and tenderness of the beef while retaining the benefits of being grass-fed!
What breed of cattle do you raise?

We raise both black and red angus cattle. Our momma cows are
hearty, of the fat and happy variety! The bulls we buy are raised in this same valley by a neighboring
rancher. They are very high quality red angus bulls with superior genetics that make them very muscly (meat is muscle, so this is important!) and lots of eye appeal!
Is your ranch sustainable and regenerative?

You bet it is! This is the same land that my grandparents ranched on. My parents and I, still ranching together today, focus on many of the same things that my grandparents taught us. Soil health is of the upmost importance, after all, if we have great soil then we can grow nutrient rich grass to graze our cattle on. We focus on building our soil health naturally, so no added chemicals or fertilizers. We practice rotational grazing to keep our cattle on lush pastures during
the grazing season and to give our soil/grass time to rebuild and rest. Our goal is to improve this land
and have a sustainable ranch for years to come.
Where are your animals processed?

We process all of our meat at a USDA inspected facility. I have carefully vetted who we will send our cattle to as it is of the upmost importance to me that they are harvested humanely. I have toured the facility, observed the slaughtering process, and had the pleasure of meeting the entire staff. I am happy to report that we have found a top notch facility that we can trust in handling our cattle and processing our beef.
Is your beef dry aged?

Oh yes, for at least 14 days! Our butchers do a phenomenal job of dry aging. This really enhances the flavor and the tenderness of our beef. You'll taste the difference!
How do I order?

Simply follow our "Products" link and find the perfect bundle for you. We accept all major credit cards and take all of our orders online. We collect a deposit on your bulk beef bundle at the time of purchase. Once we receive your final payment, we ship the meat direct to your door!
Do you ship your meat?

Yes! We sure do! We ship straight from our ranch to your door. Shipping is FREE within the continental US. Additional charge for shipping to Alaska and Hawaii. If you are in a remote villiage of Alaska, please reach out to confirm if we can ship to you.
What is the shipping cost?

You get FREE SHIPPING (to continental US) with your bulk beef orders!!! This is of a huge value! About $1,600 of shipping costs per 1 whole beef. We are happy to offer you this FREE bonus!

* We do add shipping to Alaska and Hawaii due to the high cost of shipping to these states. We also cannot reach remote villages/islands. If shipping to main hubs such as Anchorage or Honolulu, we can reach you with 2 day shipping.
How do you keep your beef frozen during shipping?

We carefully package each box of meat with the best liners on the market. (environmentally friendly and 100% recyclable material) We use dry ice, and at times gel ice packs, to ensure our meat arrives frozen to your doorstep.
What if I am not home when my box arrives?

We will coordinate to be sure that you will be home on shipment day. We will pack enough ice in your boxes to ensure that the meat is frozen when it arrives and it will stay frozen as long as you are able to be there that same day to unload into your freezer.
Do you have a guarantee of your meat?

Yes, we do! We want to be sure you are 100% satisfied with
your meat. If you have any issues or concerns, give us a call and we will make it right for you. We offer
a 100% money back guarantee
I still have other questions!

Just shoot us an email at admin@beautyandthebeef.us. We will get back with you as quickly as we can to answer your questions!